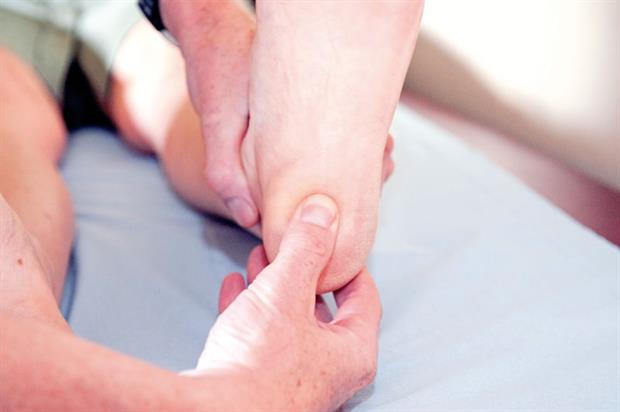 Overview
Plantar fasciitis is the most common cause of heel pain in runners, eventually affecting 10 percent of the running community. While running, the plantar fascia works with the Achilles tendon to store and return energy. Because of its powerful attachment to the base of the toe, the plantar fascia stabilizes the inner forefoot as forces peak during pushoff. Unlike bone spurs and stress fractures of the heel, plantar fasciitis tends to produce pain during the pushoff phase while running, not during initial contact. A simple way to tell if you have plantar fasciitis versus a heel spur/stress fracture is to walk on your toes: heel spurs and heel stress fractures feel better while you walk on your toes, while plantar fasciitis typically produces more discomfort when you shift your weight onto your toes.
Causes
Factors which may contribute to plantar fasciitis and heel spurs include a sudden increase in daily activities, increase in weight (not usually a problem with runners), or a change of shoes. Dramatic increase in training intensity or duration may cause plantar fasciitis. Shoes that are too flexible in the middle of the arch or shoes that bend before the toe joints will cause an increase in tension in the plantar fascia. Even though you may have run in shoes that are flexible before, now that you have developed plantar fasciitis, make certain that your shoe is stable and does not bend in the midfoot. Check and be certain that your shoes are not excessively worn. Shoes that do not sufficiently control excessive pronation combined with an increase in training can lead to this condition. A change in running style or parameters, such as starting speed work, running on the ball of your foot or sudden increase in hill workouts may lead to problems. All changes should be gradual and not abrupt. Gait changes such as altering your foot strike, switching shoe style, running barefoot or in minimalist shoes should all be made gradually and not abruptly. The "terrible too's" of too much, too soon, too often with too little rest also applies to "too many changes with too little adaptation". Make your changes gradually and allow your muscles, bones, and other body structures to adapt to the alterations you may be attempting.
Symptoms
If you are concerned that you may have developed this syndrome, review this list of symptoms to see if they match with your experience. Aching, sharp or burning pain in the sole of your foot, often centering in the heel area. Foot pain that occurs as soon as you step out of bed or get to your feet after prolonged periods of sitting. Pain that may decrease eventually after you've been on your feet for awhile, only to return later in the day. Sudden heel pain or pain that builds gradually. Foot pain that has lasted for more than a few days, or which you experience periodically over the course of months or years. Pain in just one foot, though it is possible to have Plantar Fasciitis affect both feet. Swelling, redness, or feelings of heat in the heel area. Limping.
Diagnosis
Plantar fasciitis is usually diagnosed by your physiotherapist or sports doctor based on your symptoms, history and clinical examination. After confirming your plantar fasciitis they will investigate WHY you are likely to be predisposed to plantar fasciitis and develop a treatment plan to decrease your chance of future bouts. X-rays may show calcification within the plantar fascia or at its insertion into the calcaneus, which is known as a calcaneal or heel spur. Ultrasound scans and MRI are used to identify any plantar fasciitis tears, inflammation or calcification. Pathology tests (including screening for HLA B27 antigen) may identify spondyloarthritis, which can cause symptoms similar to plantar fasciitis.
Non Surgical Treatment
Although there is no single cure, many treatments can be used to ease pain. In order to treat it effectively for the long-term, the cause of the condition must be corrected as well as treating the symptoms. Rest until it is not painful. It can be very difficult to rest the foot as most people will be on their feet during the day for work. A plantar fasciitis taping technique can help support the foot relieving pain and helping it rest. Plantar fasciitis tapingApply ice or cold therapy to help reduce pain and inflammation. Cold therapy can be applied for 10 minutes every hour if the injury is particularly painful for the first 24 to 48 hours. This can be reduced to 3 times a day as symptoms ease. Plantar fasciitis exercises can be done if pain allows, in particular stretching the fascia is an important part of treatment and prevention. Simply reducing pain and inflammation alone is unlikely to result in long term recovery. The fascia tightens up making the origin at the heel more susceptible to stress. Plantar fasciitis night splint. Plantar fasciitis night splint is an excellent product which is worn overnight and gently stretches the calf muscles preventing it from tightening up overnight.
Surgical Treatment
When more conservative methods have failed to reduce plantar fasciitis pain, your doctor may suggest extracorporeal shock wave therapy, which is used to treat chronic plantar fasciitis. Extracorporeal shock wave therapy uses sound waves to stimulate healing, but may cause bruises, numbness, tingling, swelling, and pain. When all else fails, surgery may be recommended to detach the plantar fascia from the heel bone. Few people need surgery to treat the condition.
Prevention
Factors that help prevent plantar fasciitis and reduce the risk of recurrence include. Exercises to strengthen the muscles of the lower leg and ankle. Warming up before commencing physical activity. Maintaining a healthy body weight. Avoiding high heeled footwear. Using orthotic devices such as arch supports and heel raises in footwear, particularly for people with very high arches or flat feet. Daily stretches of plantar fascia and Achilles tendon.