Overview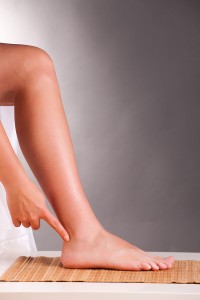 Achilles tendinitis (tendonitis) or Achilles tendon inflammation occurs when the Achilles tendon becomes inflamed, as a result, of the Achilles tendon being put under too much strain. The Achilles tendon joins the calf muscles to the heel bone, and is found at the back of a person's lower leg. It is the largest tendon in the body and can endure great force, but is still susceptible to injury. Achilles tendinitis is usually the result of strenuous, high impact exercise, such as running. If ignored, Achilles tendinitis can lead to the tendon tearing or rupturing, and therefore it is important to seek the necessary treatment. Sometimes, treatment can be as simple as getting rest or changing an exercise routine. However, in more severe cases, surgery may be required.
Causes
Tendinitis most often occurs when a tendon is over used. As the foot extends the Achilles tendon engages the calf muscles. The calf muscle generates force, which is transferred to the foot via this tendon. As this action repeats the tendon will endure large amounts of stress. An under-trained or inexperienced athlete is most likely to be affected by tendinitis since their body is not accustomed to the stress involved with athletics. Improper foot mechanics is another common cause of Achilles tendinitis. A properly functioning foot will distribute weight evenly across the foot. On the contrary, if the foot is experiencing improper mechanics, the weight of the body will not be evenly distributed. This can result in tendinitis, plantar fasciitis, calluses, bunions, neuromas and much more.
Symptoms
Achilles tendonitis may be felt as a burning pain at the beginning of activity, which gets less during activity and then worsens following activity. The tendon may feel stiff first thing in the morning or at the beginning of exercise. Achilles tendonitis usually causes pain, stiffness, and loss of strength in the affected area. The pain may get worse when you use your Achilles tendon. You may have more pain and stiffness during the night or when you get up in the morning. The area may be tender, red, warm, or swollen if there is inflammation. You may notice a crunchy sound or feeling when you use the tendon.
Diagnosis
Confirming Achilles tendonitis may involve imaging tests. X-rays provide images of the bones of the foot and leg. Magnetic resonance imaging (MRI) is useful for detecting ruptures and degeneration of tissue. Ultrasound shows tendon movement, related damage, and inflammation.
Nonsurgical Treatment
Treatment options might include anti-inflammatory medication such as ibuprofen which might help with acute achilles inflammation and pain but has not been proven to be beneficial long term and may even inhibit healing. If the injury is severe then a plaster cast might be applied to immobilize the tendon. Use of electrotherapy such as ultrasound treatment, laser therapy and extracorporeal shock wave therapy (ESWT) may be beneficial in reducing pain and encouraging healing. Applying sports massage techniques can mobilze the tissues or the tendon itself and help stretch the calf muscles. Some might give a steroid injection however an injection directly into the tendon is not recommended. Some specialists believe this can increase the risk of a total rupture of the tendon in future. One of the most effective forms of treatment for achilles tendonitis is a full rehabilitation program consisting of eccentric strengthening exercises. There is now considerable evidence suggesting the effectiveness of slow eccentric rehabilitation exercises for curing achilles tendon pain.
Surgical Treatment
If several months of more-conservative treatments don't work or if the tendon has torn, your doctor may suggest surgery to repair your Achilles tendon.
Prevention
So what are some of the things you can do to help prevent Achilles Tendinitis? Warm Up properly: A good warm up is essential in getting the body ready for any activity. A well structured warm up will prepare your heart, lungs, muscles, joints and your mind for strenuous activity. Balancing Exercises, Any activity that challenges your ability to balance, and keep your balance, will help what's called proprioception, your body's ability to know where its limbs are at any given time. Plyometric Training, Plyometric drills include jumping, skipping, bounding, and hopping type activities. These explosive types of exercises help to condition and prepare the muscles, tendons and ligaments in the lower leg and ankle joint. Footwear, Be aware of the importance of good footwear. A good pair of shoes will help to keep your ankles stable, provide adequate cushioning, and support your foot and lower leg during the running or walking motion. Cool Down properly, Just as important as warming up, a proper cool down will not only help speed recovery, but gives your body time to make the transition from exercise to rest. Rest, as most cases of Achilles tendinitis are caused by overuse, rest is probably the single biggest factor in preventing Achilles injury. Avoid over training, get plenty of rest; and prevent Achilles tendinitis.